Psychedelic fridays #7 (open air) - Mainz · Deutschland · Fr., 2. Jul. 21, 19:00 - Sa., 3. Jul., 02:00
Psychedelic fridays #7 (open air) - Mainz · Deutschland · Fr., 2. Jul. 21, 19:00 - Sa., 3. Jul., 02:00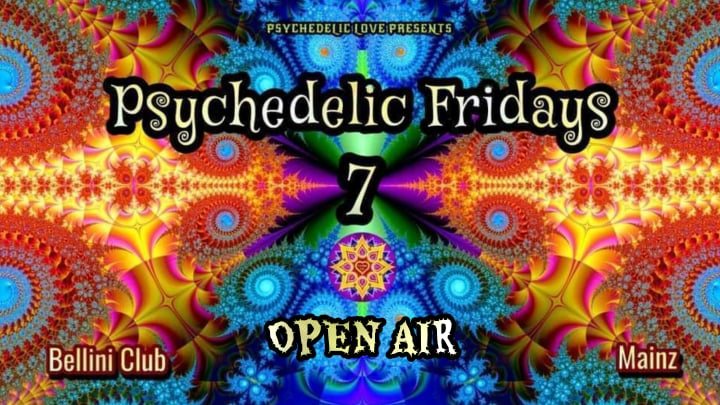 Info
This will be a private event for 100 people only.
To be present you must have a negative C-19 test or proof of vaccination or C-19 recovery.
You can apply via WhatsApp: 01782936282
each person will have to contact us individually to make their own application.
Send your application with
Full name
Contact phone
WE OFFER YOU FREE FRUITS ॐ
PSYSHOPMARIA ॐ
[facebook.com]
SECURITY ॐ
Friendly security
EVENT - 19:00 - 02:00
TRAVEL ॐ
Anfahrt via S-Bahn (S8), der Bahnhof Mainz Nord ist nur 2 Min. Fußweg entfernt,
Für Autofahrer sind ausreichend Parkplätze vorhanden.
BELLINI CLUB
Rheinallee 159
55120 Mainz
Please respect the place and everyone present at the event.
See you on the dance floor
we are one
Psychedelic Love Facebook page ॐ
[facebook.com]
Psychedelic Love events in Bingen and Mainz ॐ
[facebook.com]
Psychedelic Love ॐ international group ॐ
[facebook.com]
Location
Location
Bellini club / Rheinallee 159 55120 Mainz
E-Mail
Diese E-Mail-Adresse ist vor Spambots geschützt! Zur Anzeige muss JavaScript eingeschaltet sein!
Eingetragen vor 

1j 11std

 · Aktualisiert vor 

8t 22std

 · 19 Partys · 
Du bist nicht auf der Verteilerliste von Psychedelic Love events.